---
A fun and challenging shooter from Brazil!
Our collaboration with Statera Studio sees the birth of its first game in physical and digital version.
Story Guns N' Runs
Scattered throughout our world, a few individuals have developed technopathic powers following a modification of their DNA.
Conspiracy, a secret government organization, has injected nanomachines directly into the bloodstreams of these unusual beings to increase their abilities tenfold.
While some use this gift for good, others have chosen the path of evil…
After 17 years in hiding, the dangerous Technopath named Adrian threatens global security and plans to launch a massive attack using his fighting machines. His motives are unknown, but the threat is real and cannot be ignored.
Conspiracy must react as soon as possible and send its best agents to annihilate the danger.
An elite squad of Technopaths, including Rick, Gale, Noah and Yumi, arrive in the Atacama Desert to neutralize Adrian. The enemy is not alone and has taken a young girl named Sophia hostage.
A huge bunker with advanced technology stands before Rick and his team.
Storm a labyrinthine bunker, housing different environments full of traps and robots armed to the teeth. Pass through hundreds of rooms in a limited amount of time. Plot your course with the help of destructive weaponry and a dynamic dash system that will get you out of a lot of scrapes.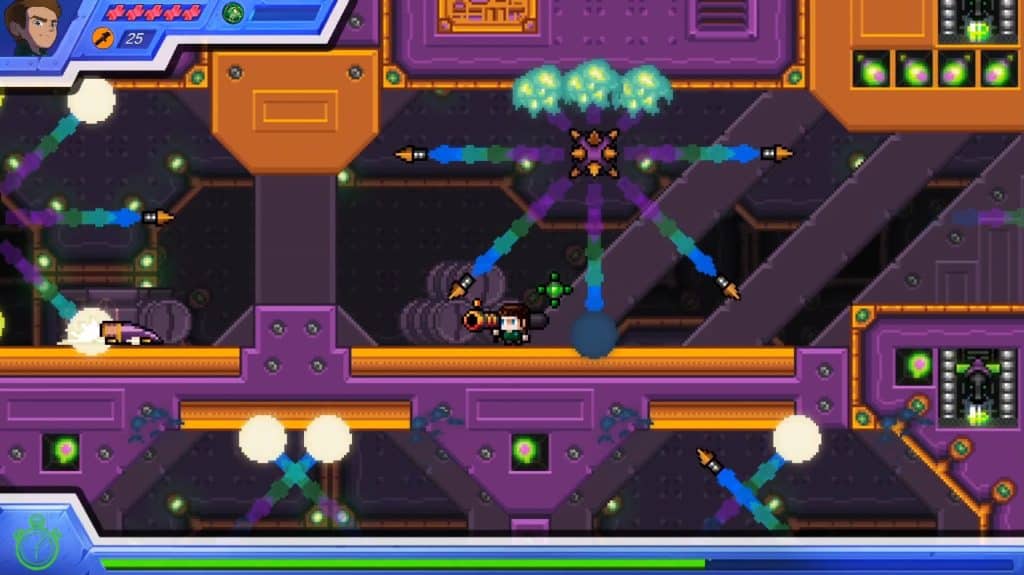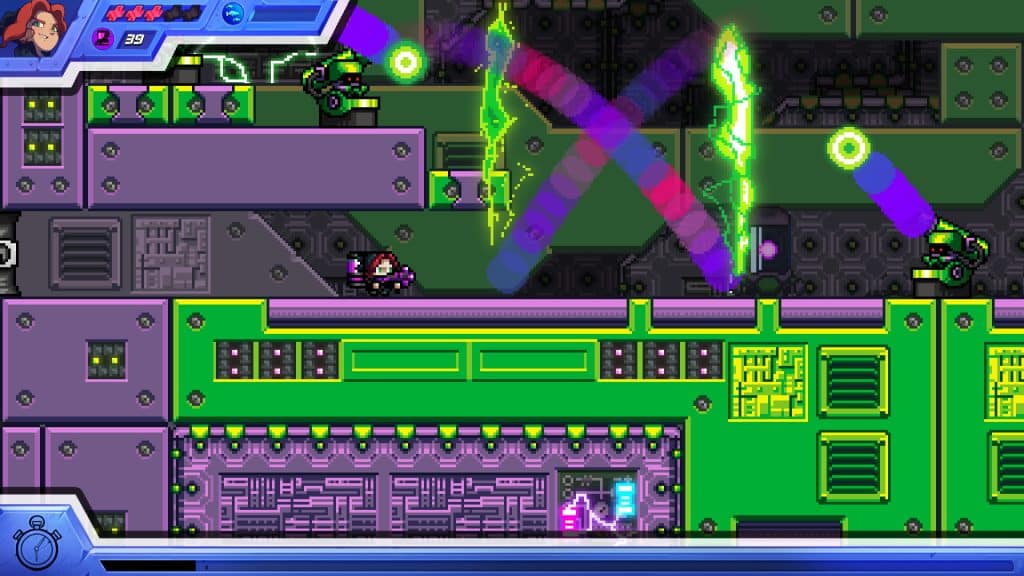 Different editions
You can find a limited version of the Guns N' Runs game for Nintendo Switch and PlayStation 4 with an exclusive PixelHeart cover. Each copy is numbered, 2000 Switch copies, 1000 for PS4, and includes a PixelHeart certificate of authenticity.
Our partners will offer for sale a non limited standard edition with a different cover for the two consoles mentioned above.
The PlayStation Store, the Nintendo Eshop and Microsoft store also have their dematerialized versions of the game.
Nintendo Eshop:
Link 🇺🇸 👉 https://vu.fr/srcb
Link 🇫🇷 👉 https://vu.fr/YneD
Link 🇬🇧 👉 https://vu.fr/VFIy
PS Store:
Link 🇺🇸 👉 https://vu.fr/IFkj
Link 🇫🇷 👉 https://vu.fr/QWLS
Link 🇬🇧 👉 https://vu.fr/wNcs
Microsoft Store:
Link 🇺🇸 👉 https://bit.ly/3HzEUUF
Link 🇫🇷 👉 https://bit.ly/40UZqWQ
Link 🇬🇧 👉 https://bit.ly/3ASPanr
---
Golden Ticket, what is it?
You've already heard about the Golden Ticket from PixelHeart but you don't know how to get this unique artifact? Don't worry, we'll explain it to you 😉.
We've slipped envelopes called PX Missions into every package that includes our Guns N' Runs PX PS4 and Switch titles. Only two of them contain a golden ticket, one for the PS4 version, the other for the Switch.
If you are the lucky holder of one of these tickets, you have won one of two specially made collectors: replicas of Rick's guns for the PS4 version and Yumi's gun for the Switch version.
Here are the links to buy the game in limited physical edition + its PX mission envelope and maybe a winning Golden Ticket 🙂:
BUY NOW: GUNS N' RUNS NINTENDO SWITCH
BUY NOW: GUNS N' RUNS PLAYSTATION 4
---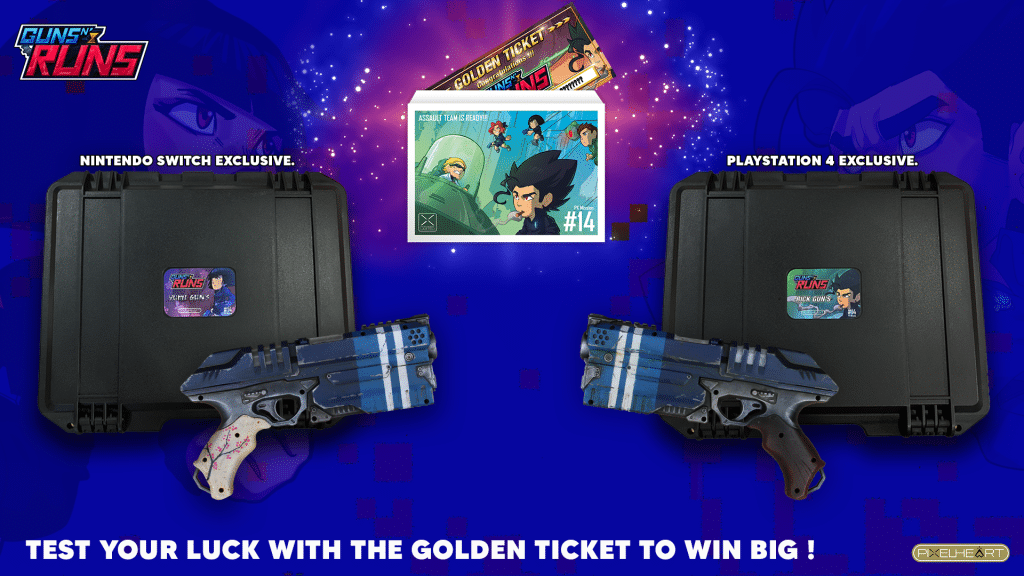 © STATERA Studio, Guns N' RunsTM. – © 2023 PIXELHEART Corporation. All rights reserved.